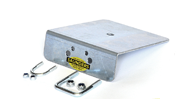 Saunders van accessories
V C Saunders produce a wide range of commercial roof rack and van bar related accessories. The major items are listed under their own product tabs, and the appropriate accessories appear when you search for your particular van. In addition they produce such items as the beacon holder which is listed below. Van Racks are able to supply a wide range of more general accessories such as snow chains and AutoSock, protective seat covers, and tow ropes. Please do not hesitate to contact us for further advice and suggestions.
If you require roof bars or a roof rack as well as other van accessories ...
may we suggest you click here - which will take you to our product finder. You will find van accessories as options with the bars/rack for your van.
If you want to purchase Saunders van accessories on their own...
please view the range below.
All our prices exclude VAT