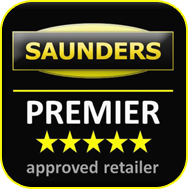 VC Saunders is probably the longest established manufacturer in the commercial van roof bar and van rack market, founded in 1954, and has experience second to none.
Their motto is "You bend 'em, we replace 'em".
If you want the solid galvanised look, no nonsense, tried and tested, then go with Saunders, confident that you've got the best. Saunders bars are sold on the "Everything you need in one box" principle, but if you need e.g. new legs to take a Saunders roof bar system from one van to another, the parts are normally available.

Their products are made from 2mm gauge steel. This is 25% stronger than other steel van bars on the market and over 30% stronger than aluminium bars. To this they add 30 microns of hot-dip galvanizing or over 4 times as much as other manufacturers.
VC Saunders produce a full range of accessories in addition to their core racks and bars, offering rear door ladders, ladder clamps, pipe / conduit carriers, and bar mounted load stops, allowing you to customise your van roof to suit your own particular needs.