Vans, pickups and minibuses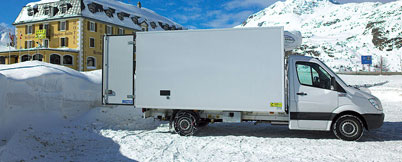 Our range of snowchains and AutoSock snow socks will keep your business moving in snowy weather, and also get your people safely back to base:
View Products
Trucks, coaches, buses and HGVs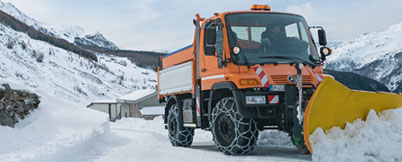 We stock König's Coach Master chains - much quicker and easier to fit than traditional chains. Also cable chains and traditional chains for HGVs:
Select tyre size
Enter your truck, coach or HGV tyre size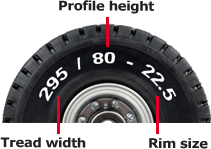 AutoSock snow socks or snow chains?
---
Very importantly, you need to buy chains that are strong enough for light commercial vehicles, so avoid buying anything with links less than 12mm high, even if they fit around your tyres, because they're likely to break.
AutoSock provide extraordinary grip, and are ideal for short term use. Many fleets are carrying them as a means of helping their people to get back to safety if they're caught out in the snow, and some are even issuing them to help get key employees to work!
See autosock.co.uk for detailed information about AutoSock. If you want to buy more than 10 pairs, please contact our Business Development Manager via andy.greensmith@john-jordan.co.uk, or phone 015396 22406.
AutoSock snow socks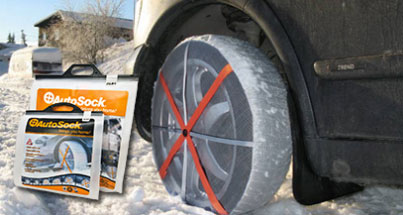 What are AutoSock snow socks?
AutoSock are textile 'socks' which are pulled over the driving wheels of vehicles which need extra grip on ice or snow, before or after they've got stuck. The grip is achieved through friction, using specially developed hard wearing textiles. There's only one possible way to fit AutoSock, so no special training is needed. AutoSock are supplied in pairs, are reusable time and again, weigh less than 1kg, and take up minimal space - a packet of AutoSock is about the size of a folded shirt. There are sizes for most vehicle tyres, from cars to trucks and buses.
They can be used on vehicle / tyre combinations that have a "No fit" for metal snowchains, and are compatible with all electronic stability systems. See autosock.co.uk for more information.
We are the UK and Irish distributors for AutoSock.
AutoSock make an immediate and extraordinary difference. Most people are not only surprised but astonished at the difference they make. They even pick up where winter tyres lose grip.
A Gleaner Oil tanker driver who was delivering oil to an elderly customer in harsh winter conditions wrote "It's down to the driver's discretion as and when to use them but they certainly gave me confidence and thereby reduced the stress levels related to our industry when we are operating in these extreme winter conditions."
Businesses which need to travel to customers' premises as part of their trade are very likely to lose business if it snows, so thinking about how the business will cope in snowy weather is a strategic issue. This includes getting your key staff to work.
AutoSock were developed in Norway over 15 years ago, and have been tested and approved both by the German TÜV and by most car manufacturers, including BMW Group, Citroën, Fiat Group, Honda, Hyundai, Jaguar, Land Rover, Lexus, Mazda, Peugeot PSA, Mercedes-Benz, Nissan, Subaru, Toyota, and VW Group.
There are many copies and knock offs; several of these are being sued for breach of patent. AutoSock will not be the cheapest because the specially developed polyester is made in Germany, and the factory that makes them is approved to international quality and welfare standards, including ISO 14001, ISO 9001, OHSAS 18001. They are also fully tested by TÜV SÜD against the very high criteria developed by TÜV, AutoSock, and a leading vehicle manufacturer; no other snow socks have passed this standard. AutoSock do of course also have full product liability insurance, and all these certificates can be exhibited on request.
Vehicles which carry AutoSock should never get stuck in snow; they should be able to rescue themselves if they do. Likely examples of use:
Getting your key people to work in snowy weather, and getting them home again after work, safely. Roads which are not salted are usually the most hazardous in snow; these are often close to home - in housing estates, or rural side roads.
Going about your daily business - everything from moving vehicles around in transport depots to wanting extra grip when descending snowy roads to needing extra grip when climbing hills.
Getting your vehicles, and your people, back to base, or to a place of safety if caught out in snow. AutoSock are also very effective on coaches and buses.
Snow chains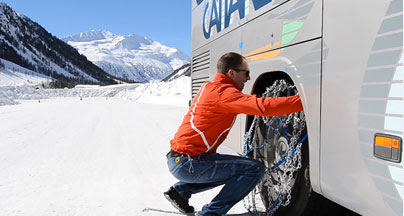 Snowchains are surprisingly quick and easy to fit!
Snowchains are technical products but they are much easier and much quicker to use than most people think. But you do need to be shown what to do - we have fitting videos for all our chains and you also need to practise.
All the chains we sell are fast fitting, even the bus and truck chains. Things were different 20 years ago which is why some people who remember snowy winters of old still dismiss snow chains as too much of a hassle. In those days you needed to lay them on the ground and then drive on to them.
For LCVs up to 5 tonnes, the Swiss Spikes-Spider system is the fastest to fit and remove, followed by the Polaire GRIP.
For HGVs, check out König's T2 Pro.
Coach operators - König's Coach Master are designed for hard-to-access rear wheels, with their T2 Pro recommended for the front wheels.
Using snowchains in the UK is a sensible thing to do
There's no real tradition of using snow chains in the UK, probably because (see above) snow chains were hard work when we had serious snow in the 60s and 70s, and it's only in the last few years that snow is becoming once again a routine element of UK winters.
Snowchains do a different job to AutoSock / snow socks
Anyone who drives on hard compacted snow will really benefit from snowchains. Should you buy snow chains or AutoSock snow socks? It makes sense to buy both, ideally, because they have different uses. If you are only budgeting for one system, we suggest that AutoSock will be adequate for most winters, and they are also smaller to store, intuitive to fit, and cover many more tyre sizes than snow chains.
Information you'll need before buying
You need two bits of information before buying:
What's your tyre size?
The starting point. Check the tyre, not the handbook. In the example on the right the size is 205/55-16.
Are snowchains permitted?
Does your van manufacturer allow traditional snowchains to be fitted to your make and model? Find out by checking your handbook. You can get started by checking our snow chains database; this shows all your options but is no substitute for checking the handbook!
How to choose. Buyer's guide
Types of chain: Traditional, Automatic, Ladder Track
Traditional snow chains put chain behind the wheel as well as on top of it. They are fitted by pushing a cable behind the wheel at ground level before lifting both ends above the widest part of the wheel, joining them together and then placing them behind the top of the wheel. We have van and truck chains of this type.
Automatic snow chains also put chain behind the wheel as well as on top of it. The chain, hanging from a sprung steel hoop, is pushed over the top of the wheel. These chains can be pushed into wheel arches where there isn't space for your forearms, and they are also ideal for twin wheeled vans and minibuses as well as coaches and buses.
Ladder track snow chains only put chain on the top of the wheel, so there are no internal "clearance" issues. They are fitted from the outside of the wheel, attached to one or several wheel bolts. Look out for the Spikes-Spider chains - they are the fastest to fit, the most robust for commercial use, and can't get tangled up in their storage bag.
Choose by budget
We display the chains cheapest first. You will know how much you have to spend, and will be able to see what extra you get for increases in budget.
Choose by ease of fitting and removal
The more expensive the chains the easier they are to fit and remove. Expensive chains usually have marginally better performance, but it's marginal – you are paying for convenience. This is usually 'self-tensioning', which means that you don't have to stop again to tighten them up.
Our Brands popup has information about why we stock several brands, and what each has to offer.
Please use the filters you see on our snow chains listing pages to help narrow your choice.
We offer four different brands of commercial snowchain because each of the brands contributes something unique to our overall range:
Maggi
Maggi is the probably the best known of the Italian brands. Some of their chains are similar to RUD and Thule in design, but because we are the UK importer we can offer these chains at better prices.
Unique chains: Maggi's 'The ONE 4x4' chains have a patented self-tensioning system that uses a series of elastomer balls to keep the chains tight. Their TRAK range fits from outside the wheel without the need for any tools.
RUD
RUD is Germany's specialist chain manufacturer - snowchains are only a small part of their global business.
Their top of the range 4x4 chains (RUD-matic Classic V) use exceptionally hard wearing speciality steels, which is why for example they supply the British Army and other organisations which need the toughest chains available for cross country work.
Spikes-Spider
These are made by Confon in Switzerland.
Unique chains: All Spikes-Spider chains are unique.
There are two versions: standard Spikes-Spiders clip onto a pre-positioned plate that's fixed to the wheel rim; they are definitely the fastest to fit and remove. The new 'Easy' versions clip onto two wheel bolts.
Spikes-Spiders can be resized by at least 220mm, providing long term value for money for customers who use vehicles with similar sized wheels.
All components can be replaced when they are worn out.
Unlike all other snow chains, Spikes-Spiders don't rust because they use stainless steel.
It's no surprise that they are generally considered to be the best snow chain system available or that, for example, they are supplied as Original Equipment to Jaguar Land Rover.
Thule
We stock the best of Thule's traditional chain models, together with their K-Summit ladder track chains, and the Easy-fit automatic chains.
Unique chains: Easy-fit chains are tangle free, quick, easy and intuitive to fit and remove - they're also ideal for use where space in the wheel arch is limited. They're as quick and easy to use as Spikes-Spiders, and quite a bit cheaper, but they are less robust and more vulnerable to damage.