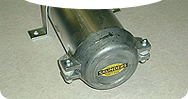 VC Saunders van pipe carriers / pipe tubes and conduit holders of all types and sizes
Pipe, or conduit, carriers are designed to allow the safe transport of copper pipes and conduit in a manner which protects them from the danger of bending, potential weather damage or theft, and contains them safely on the van bars or racks. Available in two different cross sections, the Saunders pipe carriers are supplied with brackets allowing them to be fitted on a broad range of van bar thicknesses, with the actual measurements on the specific pipe tube page.
If you require roof bars or a roof rack as well as pipe carriers ...
may we suggest you click here - which will take you to our product finder. You will find pipe carriers as options with the bars/rack for your van.
If you want to purchase Saunders pipe carriers on their own...
please view the range below.
All our prices exclude VAT