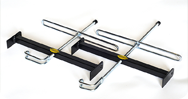 Saunders ladder clamps
VC Saunders produce ladder clamps which secure ladders while in transit on your van bars or rack. Available in two different clamping lengths, allowing you to clamp different depths of stacked ladder, the Saunders ladder clamps are fast spinning and have the facility to be padlocked for additional security.
If you require roof bars or a roof rack as well as ladder clamps ...
may we suggest you click here - which will take you to our product finder. You will find ladder clamps as options with the bars/rack for your van.
If you want to purchase Saunders ladder clamps on their own...
please view the range below.
All our prices exclude VAT