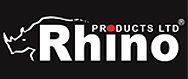 Rhino Kammbar
The Rhino KammBar will be officially launched in April 2014 and represents a substantial change in the commercial roof bar market. The key feature is the profile of the KammBarr which resembles an aircraft wing and is designed to reduce the twin problems of wind noise generated by van roof bars and reduced fuel efficiency when the commercial bars are in place. This aerodynamic Rhino KammBar is designed to be lightweight but very strong, made from anodised aluminium to enhance the look of the system on the van roof and appealing to the discerning commercial van driver, attracting those who use their vans for leisure as well as business.
The Kammbar will be supported by a range of accessories designed with the same ethos, from aerodynamically shaped load stops, to the inclusion of locking leg cowls to boost security.
KammBar load stops which are designed to be aerodynamic and will have two pairs included free of charge with each set of KammBars purchased.
Rhino KammBar will be fully compatible with the Rhino SafeClamp, Rhino LadderStow, Rhino SafeStow system, and Rhino PipeTubes. There will also be a KammBar specific rear ladder roller.
The rear ladder roller for the KammBar system will have integrated telescopic support arms, adjustable to four different lengths, allowing precise positioning on any vehicle.
Rhino KammBar foot-packs will be pre-assembled to reduce the fitting time required by the customer.
Locking cowls will be included for each of the KammBar legs, a new innovation in the commercial roof bar market which aims to improve security.