VAN-RACKS stock Van Rear Door Ladders from RHINO, SAUNDERS and THULE PROFESSIONAL that are available in a variety of lengths and styles.
If you require roof bars or a roof rack as well as rear door ladders ...
may we suggest you click on the button - right - which will take you to our product finder. You will find pipe carriers as options with the bars/rack for your van.
If you want to purchase rear door ladders on their own...
please view the range below.
3
>> Saunders rear ladder: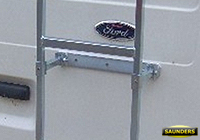 Saunders ladder support bracket no. RA301
The Additional Ladder Support is adjustable on the main ladder frame and offers extra support. It allows the ladder to have a 3rd, central, mounting point rather than the standard 2, top & bottom. The support also comes complete with rubber protection strip and is fitted using 5mm steel rivets.
>> Saunders rear ladder: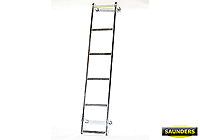 >> Saunders rear ladder: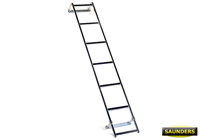 All our prices exclude VAT